Horst Petzschler, a German fighter pilot that landed at Bulltofta at the end of the war
- Text by Ingemar Melin -
Horst Petzschler
Photo via Claes Sundin

During the last weeks of World War II many German refugees managed to escape the advancing Red Army and find the way to Sweden. Many stories have been told, most talked about and documented is perhaps the dramatic events surrounding the large number of Balts and German soldiers who, by all kinds of naval vessels, fled in panic from the so-called Kurland pocket in Latvia. They came across the Baltic Sea in ships and barges often in deplorable condition, many of these were shot at and sunk by the Soviet submarine fleet. No-one will ever know how many of these that never reached their destination but were sunk.

However from the disintegrating German Reich people did not only escape by sea, a large number of German aircraft also landed in Sweden and especially the south part of our country. From the beginning of April 1945 until the end of the war the airspace of Scania was heavily traffickedby Luftwaffe aircraft that for various reasons sought refuge here.

On the 4th of May around 3pm a Messerschmitt Bf 109G marked "Yellow 5" landed at the Bulltofta airfield outside Malmoe in the south of Sweden. It was flown by Oberfeldwebel Horst Walter Petzschler from Jagdgeschwader 51, also called Geschwader Mölders. His unit, the 10thstaffel, was based at a temporary airstrip in the west of East Prussia, near Danzig.
He had fought the airwar on various theatres of battle, both on the home front in defence of Germany and on the Eastern Front. He had also been assigned to some training units. On 15 February he went to Danzig to report to 10 Staffeln / Jagdgeschwader 51. Once in place he was assigned a Bf 109G-10, one of the most recent versions of the series of ever-improved versions of the legendary fighter, and advanced in his career and assumed the role as a leader of a Staffel.
Over the years he actively participated in combat missions he had regularly been involved in aerial combat and duels against both Russian and western Allied opponents. His 26th and last victory occurred on April 27, 1945 when a Russian Petlyakov Pe-2 was shot down north of the city Pillau in East Prussia.
On May 4, the Group Commander of 10./J.G.51 Oberleutnant Anton Lindner assigned fifteen pilots to fly the groups remaining aircraft to Copenhagen, Denmark and surrender to the British army. Horst took off in a Messerschmitt Bf 109G-10/R3 heading for Copenhagen.
Horst Petzschler remembers:
"Copenhagen where our unit J.G.51 Stab already was located was only 5 minutes away over the water, but I didn´t make it. My belly tank was leaking, being hit at take off from our airfield Junker Troylhof. The aerodrome was only a meadow, not a regular airport. Malmoe Bulltofta, it was my luck to find it and with my last drops of fuel I made a dead stick landing. I was well received - not even the Flak shot at me. I realised that this was the end of WWII for me!"
The officer who received Petzschler on Bulltofta was 1st Lieutenant Sven Forssén of the Swedish Air Force Wing F10. When the plane rolled out and stopped in the middle of the field, Forssén jumped up on the wing of Petzschler´s "Yellow 5". The canopy was opened and Forssén formally announced Petzschler that he now was in Sweden and the war was over for him. Furthermore, he would be interned for the duration of the war, and as a German soldier be treated according to the Geneva Convention. Then Forssén asked Petzschler to hand over his sidearm (a Belgian Browning 7.65mm pistol) and not to sabotage his aircraft. There was a 1kg explosive charge placed between the control stick and the fuel tank for destroying the aircraft if it should be forced to land behind enemy lines.
Petzschler was then taken to the officer´s mess of F10 Wing and served a genuine "Swedish smorgasbord" of the finest kind. Horst could hardly believe his eyes, during the past couple of months the main staples for his Luftwaffe unit were horse meat, vodka and Slibovitz (plum schnapps) - all richly provided. To see the great variations of meat, bread ond other food was overwhelming. Horst was not much interested in the meat, he had had enough horse meat to turn him off meat for a while.
For a long time hereafter Petzschler would come to prefer the "Swedish smorgasbord" more than any other type of food, the German kitchen included.
He was properly interned according to the Geneva Convention, he had also just good things to say about the treatment in Malmoe at the F10 Wing. Then the surprise and chock came when the Swedish government fell for Soviet pressure and decided to hand over 2500 German soldiers and approx. 344 Latvian, Estonian and Lithuanian military personnel who fought on the other side into Soviet POW camps and with it - into slave labour for over 3 years.
Petzschler:
"So it was that Trelleborg was the port where the Swedish "Statspolisen" (State Police) handed us over to the Soviet slave ships. It was the liberty-ship "Kuban" that first brought over 1000 internees into POW-camps to Libau / Latviato to serve the Soviets. Then the "Beljo-Strova" (White Star) came twice to Trelleborg to take the rest of us. I was brought onboard on Beljo-Strova the 22nd of January 1946 and can remember thinking - I have lost hope for humanity.
I was released on the 22nd of September 1949, a skeleton but alive! I then gave a promise to myself - to give that experience further on to younger generations, to show my Thank You to the Swedish people and in particular my very good friend Lt. Sven Forssén of the Swedish Air Force Wing F10 at Malmoe-Bulltofta. When my oldest son was born in Berlin 1951, he was christened Sven Peter James."
During the war Petzschler flew a total of 297 sorties. He was shot down 13 times (11 crash landings and 2 bail outs). All the times he was shot down was due to anti-aircraft fire except for May 28, 1944 when a P-51 brought him down over Magdeburg. Except for a stay with J.G.3 in defending the Reich, his primary mission was fighter-bombing and tank-busting in support of ground troops, he also flew as fighter escort for Hans Ulrich Rudel´s Stuka unit.
In the 1950´s Horst emigrated to Canada where he earned his living as an auto mechanic. After a while he moved to the United States, where he put to use his aircraft training. He then worked for several major aircraft manufacturers; Boeing, Lear, Northrop and Beechcraft. After retirement he and his family settled down in Wichita, Kansas.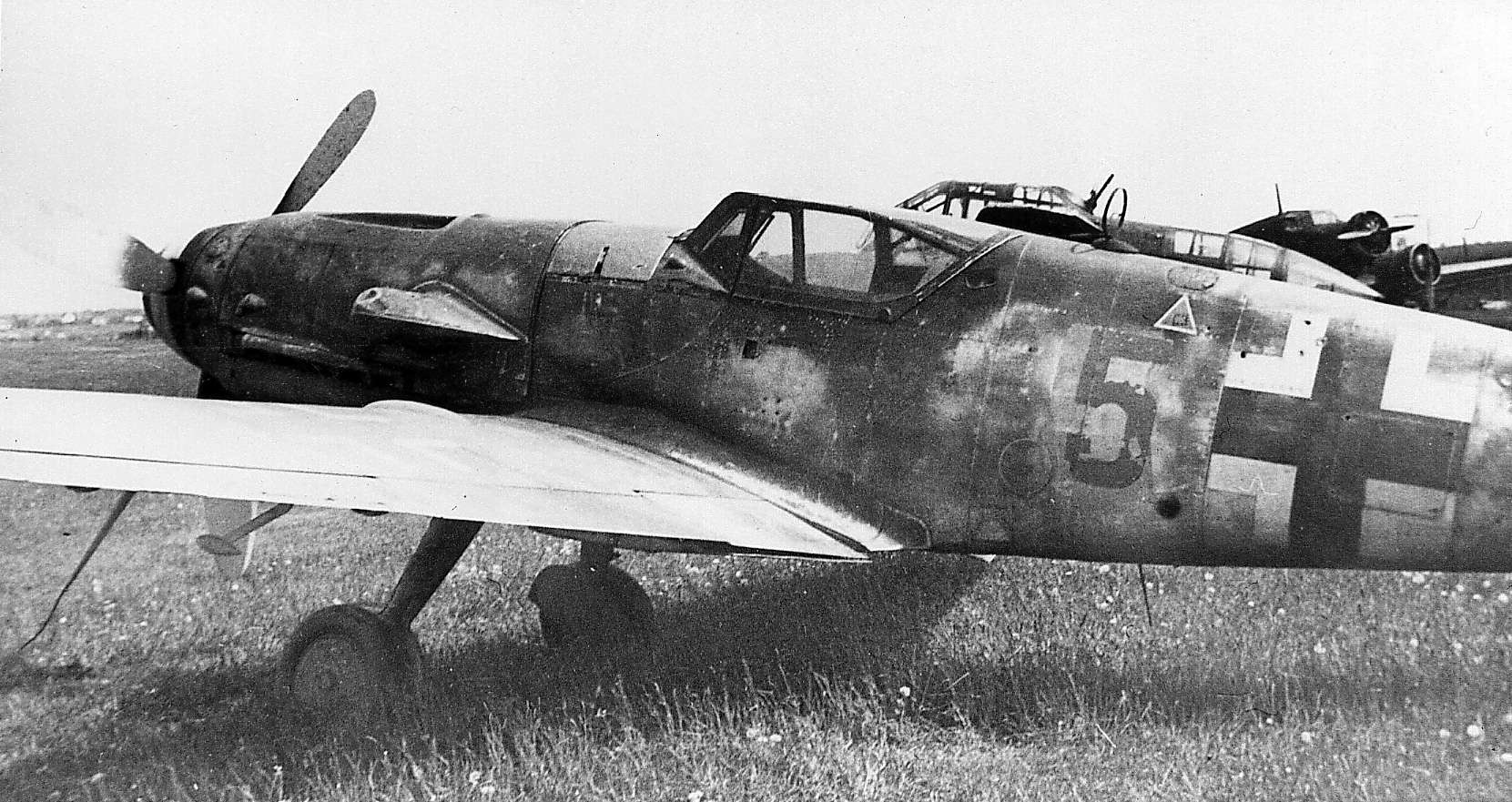 Petzschler´s Bf 109G-10, Werk Nr 130297, at Bulltofta. Photo via Claes Sundin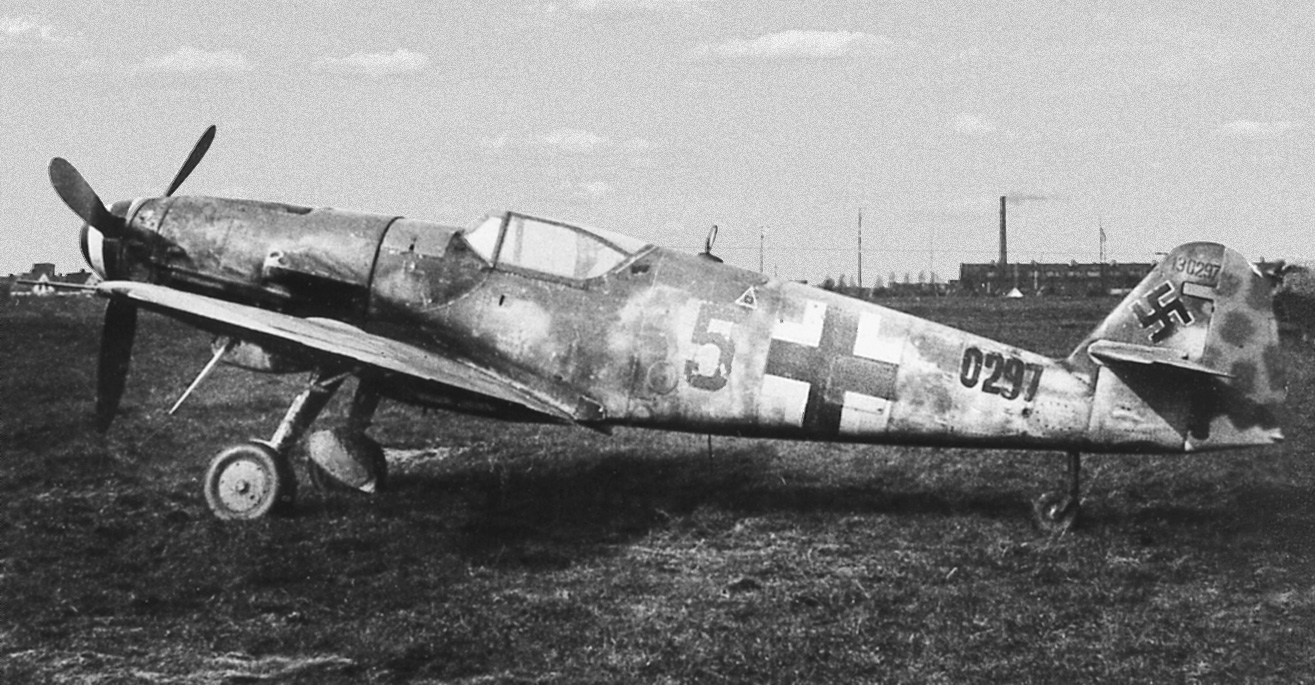 Another picture of Horst Petzschler's Messerschmitt at Bulltofta. Photo via Claes Sundin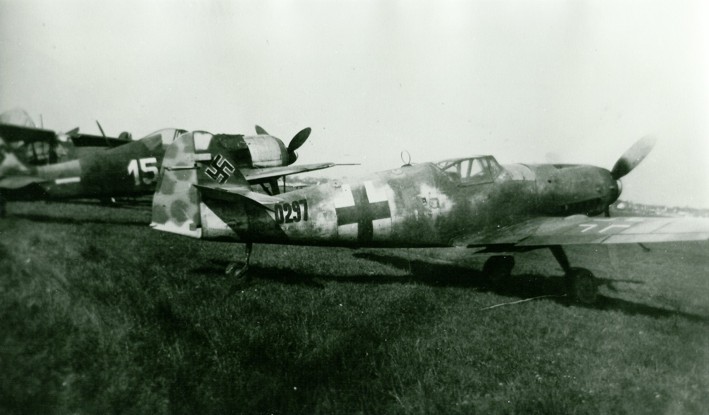 Back at Bulltofta, in the background is the Fw 190 that landed a few days earlier.
Photo: F10-archive via Andreas Samuelsson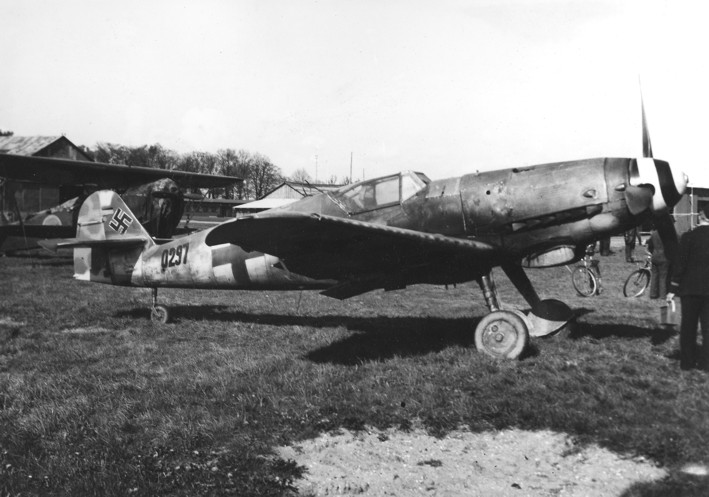 Parked at Bulltofta. Photo via Bo Widfeldt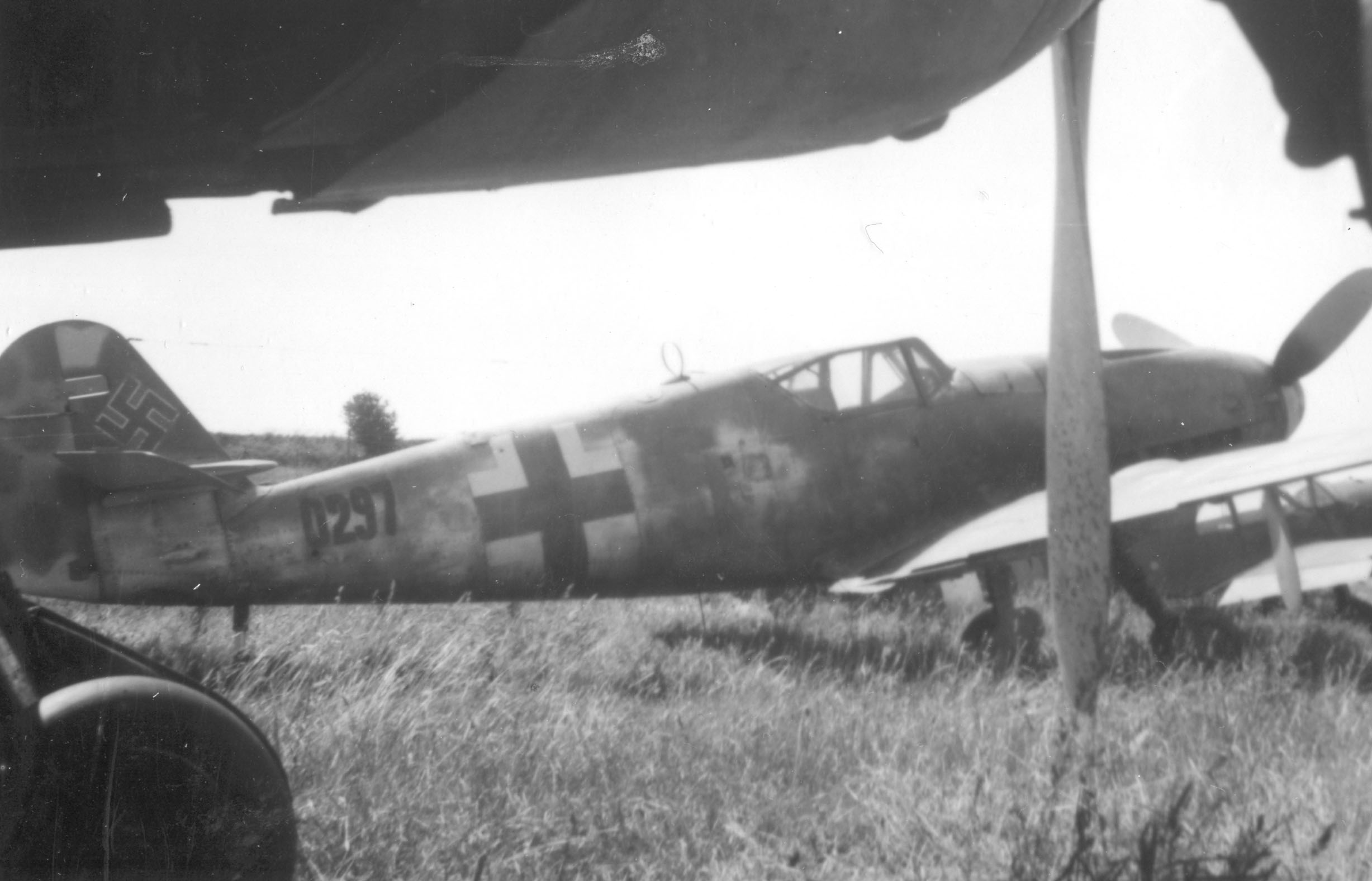 Photo Bo Ekberger (via Leif Hellström)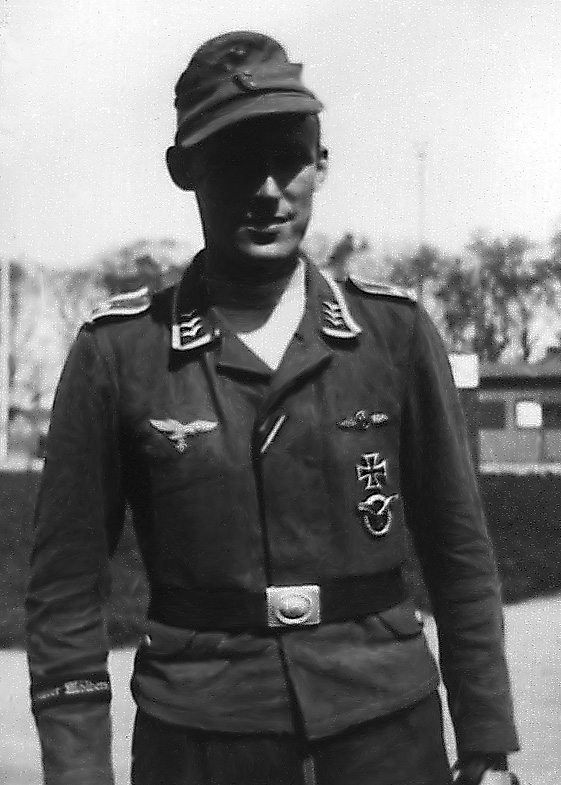 Horst photografed at F10 after his landing.
Horst Walter Petzchler passed away on May 16, 2011.
Photo via Claes Sundin
Thanks to:
Horst W. Petzschler, Wichita KS, USA
Steven Bathy, Br. Columbia, Canada.