Lancaster Mk1 in Klagshamn
- Compiled by Nicklas Östergren -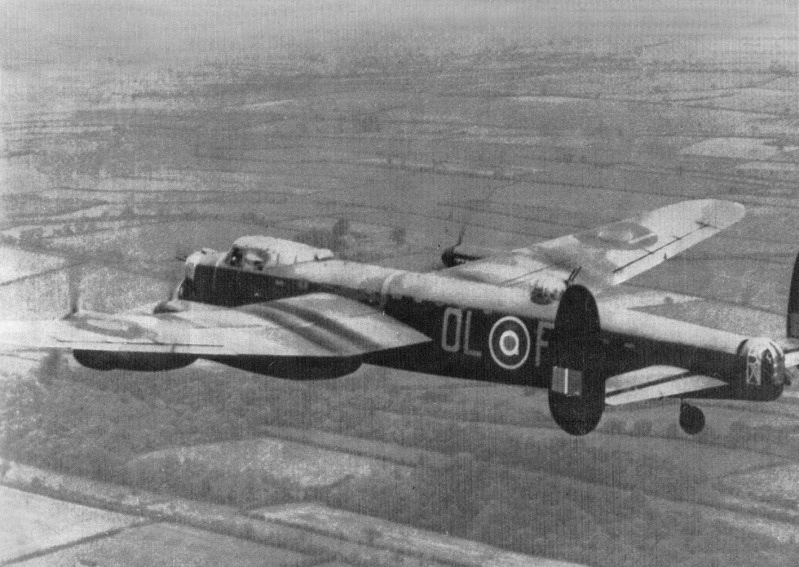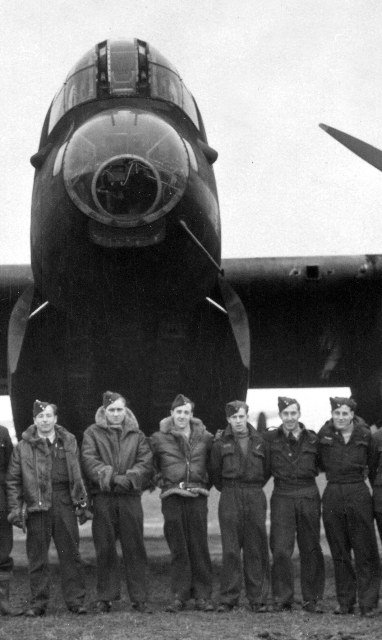 The crew in front of Miss Toronto 2, RAF Waddington, fall 1942. From the left Charles McDonald "Mac" (pilot), John Crebbin (rear gunner), Cy Paley (bomb aimer), Vic Nunn (navigator), Max Coles (radio operator) and Vic Hill (Mid upper gunner). Photo via Jeff McDonald
Editor´s note: Last january PO. CP. (Chuck) McDonald of (93 Glenolme Ave.) Toronto, took Louis Hunter of the Canadian Press London Staff as a passenger in his Lancaster on a Berlin bombing raid. Engine trouble over Denmark forced them to turn back. Then, on the night of april 20 on his way to Stettin on his 42nd operational flight, McDonald was shot down in flames and now is interned in Sweden.
In the following story McDonalds tells the story of that Stettin flight.
On april 20 we briefed to go to Stettin. I was to take F for Freddie and at 9.39 P.M after circling the aerodrome a few times we set course for Denmark at 4.000 feet.
Everything went well until we reached the Danish coast. The fireworks really got underway there, but most of the flak was five to six miles south of us on our starboard side. We saw five bombers get the "chop" (shot down). They were all flying low over Denmark and stooging right over the defend areas which was something new to us as far north as we were.The moon lit up every ground detail brilliantly and we were "bang on" track as my bomb aimer, Cy Paley, repeatedly got pin points. We had just crossed the German coast at about 16.000 feet when things really began to happen. Johnny reported many fighters and asked Chris to keep his eyes on an aircraft some 1.000 yards away on the starboard quarter. I had levelled off from climbing at 16.500 feet and had just begun to weave a bit. We were now about four minutes into Germany on our last leg to the target. Johnny reported a Lancaster on our port quarter and about 1.000 feet up.
"Turn to the starboard, go" yelled Johnny. I heeled her over into a 70-degree bank and shoved the nose down, watching for other bombers who might be in my path. The next thing i knew there was an explosion behind me and in front of Vic. I knew then that we had been pranged. Then many holes appeared in my windscreen right in front of my face. These I knew were machine-gun bullets because the were small, clean holes. They entered the aircraft from the starboard side engine behind Tommy Parrington, the flight engineer, and came out again throught my perspex windscreen.
The explosion I had heard I thought to be a cannon-shell, which afterwords proved to be correct. No one said anything. All I could hear was Johnny´s and Chris´s guns and a peculiar tearing noise made by bullets and cannon shells ripping through old F for Freddie from stem to stern.
I could feel the controls tighten and automatically looked at the instrument panel – Airspeed 380 knots and altitude 12.000.
"Mac, oh Mac, I´ve been hit" yelled Chris Ford from the mid-upper turret.
"Okay, Chris boy, just hang on for a minute longer and we´ll be out of this mess" I said.
"Damn," I thought, "this is grim."
"Okay, straighten out Mac," said Johnny.
It sure took some straightening. The airspeed was now 405 knots at 8.000 feet, which is a true airspeed of close to 500 miles an hour. However, we coped allright, old F for Freddie and I, and we were under control at 6.000 feet.
I told Tommy and Maxie to see about Chris, and turned back on to course. Just then, Chris, who was in great pain, reported a fire in the port wing. That meant only one thing, we had been hit in one of the petrol tanks in the port wing by incendiary bullets.
Yes, I could see the fire now, burning brightly in a small patch just on top of the port centre petrol tank. No use to dive her again, because if that last power dive didn´t blow it out, nothing on earth would.
"Oh well," I thought, "We´ll still make the target" So we carried on.
Johnny told me that an enemy aircraft, a Ju 88, had flown in to a distance of 150 yards while he literally poured lead and incediaries into him. All of a sudden the enemy stopped firing and dived out of control beneath our tail and Johnny was still hitting him as he spun crazily towards the earth.
Hells bells! The fire had spread by now to two more places in the same wing. Chris was on the rest bed and he had a badly mangled left arm. He had been hit by a cannon shell. Maxie and Tommy reported this to me.
"Prepare to abandon aircraft" I yelled at the crew.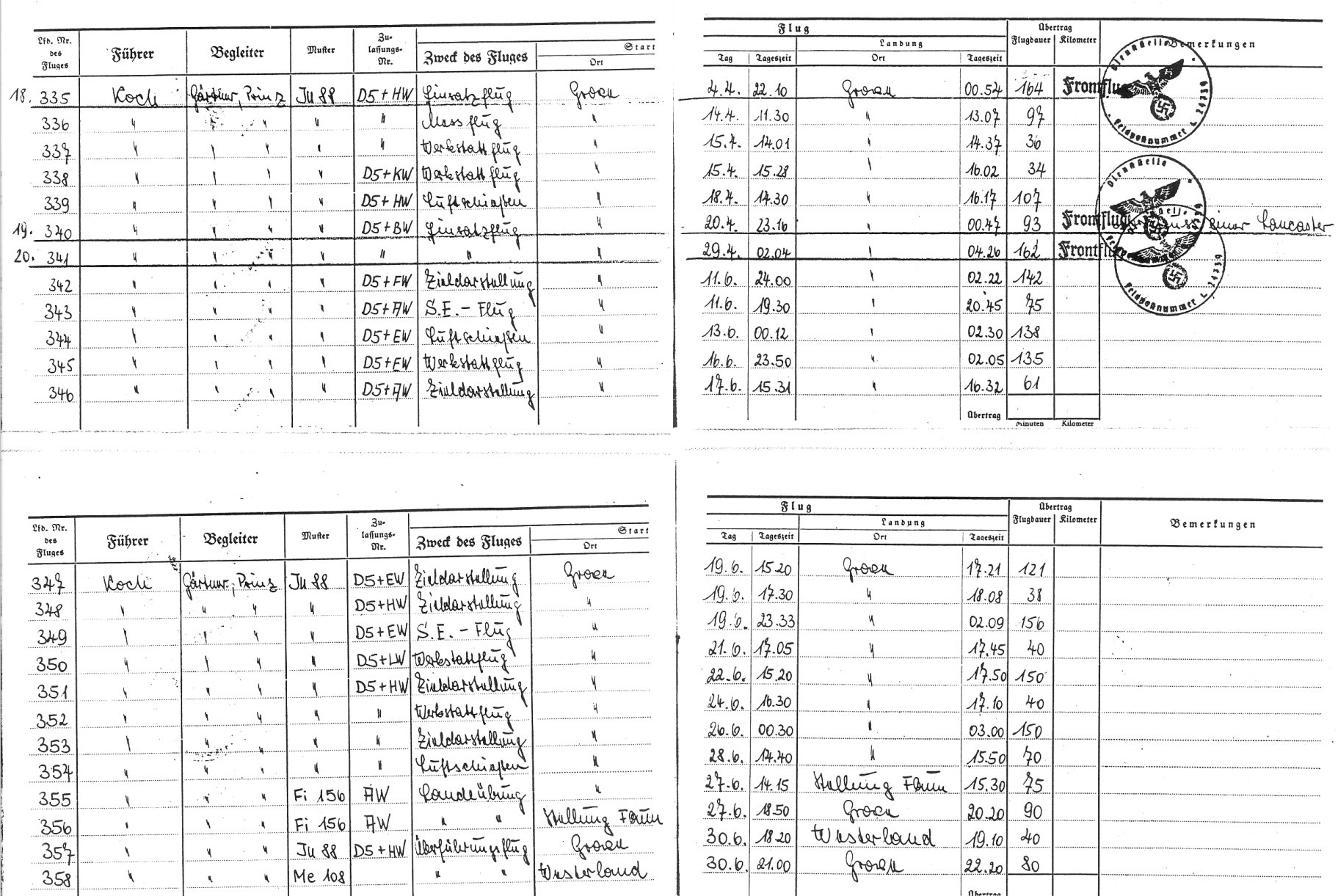 Spread of Fw Kochs flightjournal where the note of a shooting down of a Lancaster by Klagshamn during a frontflying the 21st of april 1943 is written. Via Bo Widfeldt
The crew of the Ju 88 (D5+BW) that shot down McDonalds Lancaster. From the left Oberleutnant Herbert Koch, Hauptmann Velmeden and Hauptmann Herbert Schröder captured by NJG 3 at Grove i Danmark spring 1945.
Now came the time for the major decision – What to do now. We now had three fires burning fiercely in the port wing. I knew she would never hold together long enough to get back to England. I headed back for the German baltic coast and told everyone to be ready to bail out on a second´s notice.
"Poor Chris," I said to myself, "I wonder if he can bail out"
We reached the coast, then turned west and hugged the land so we would not drown if we did have to jump. The fires were getting worse.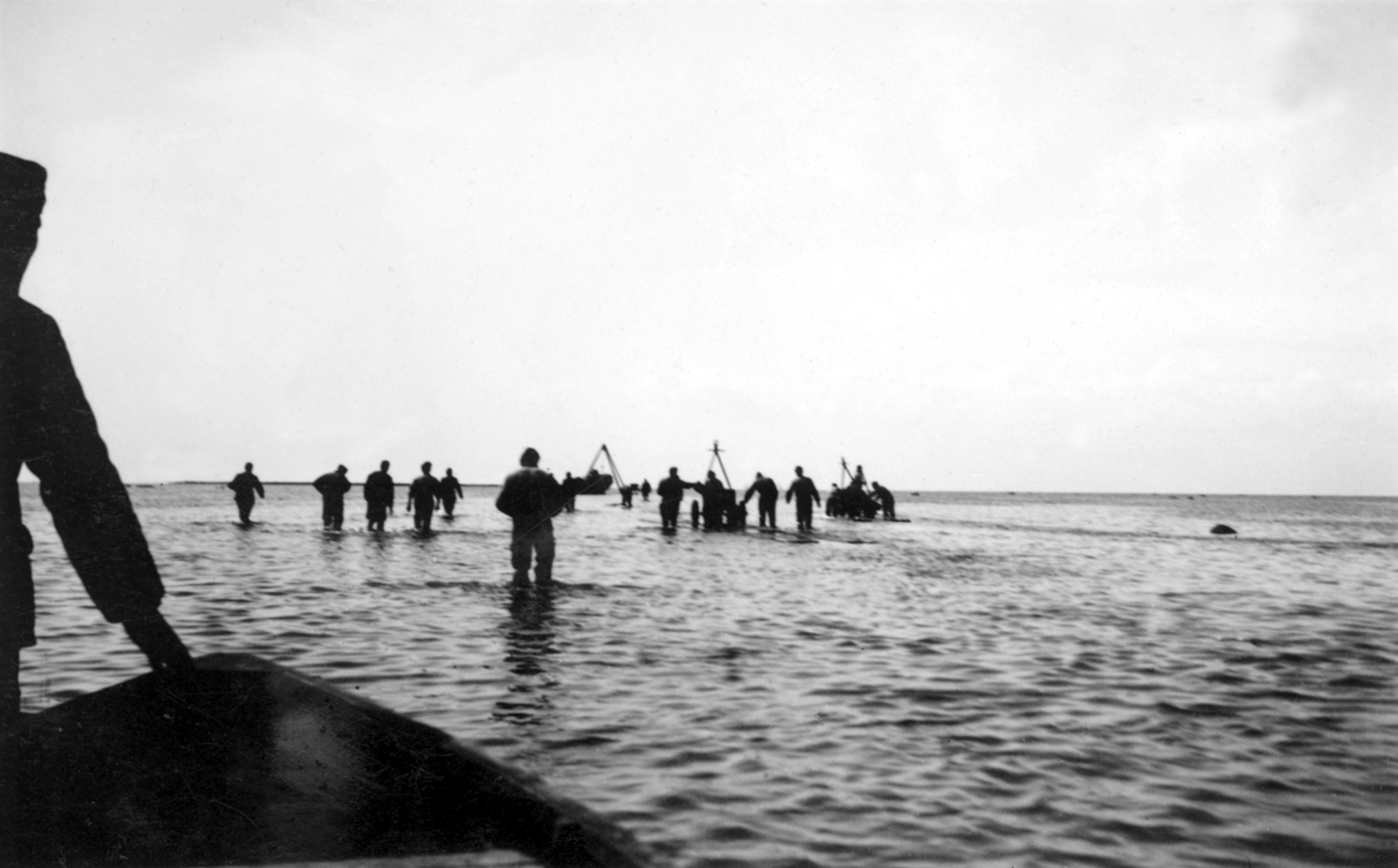 Air Force staff wade out to the plane. Photo via Bo Widfeldt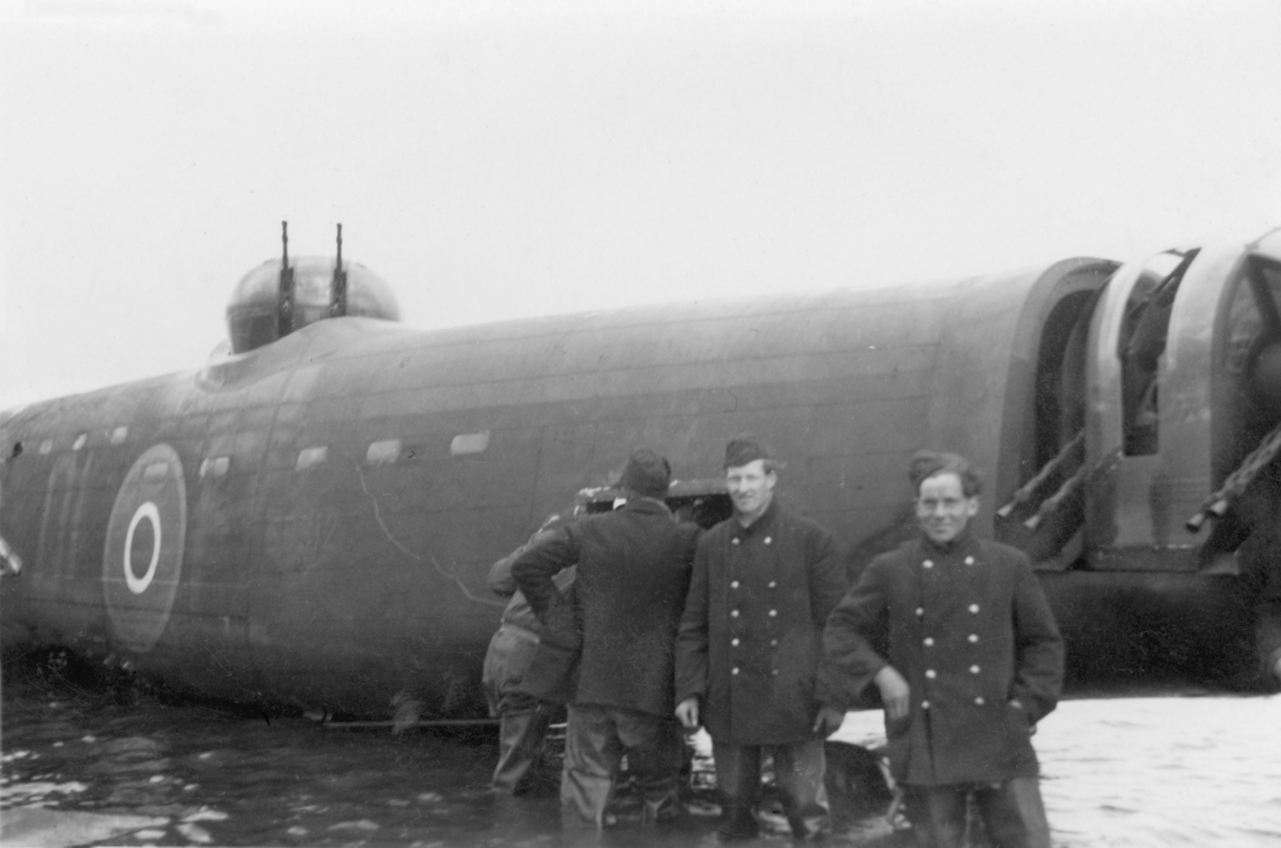 Photo via Bo Widfeldt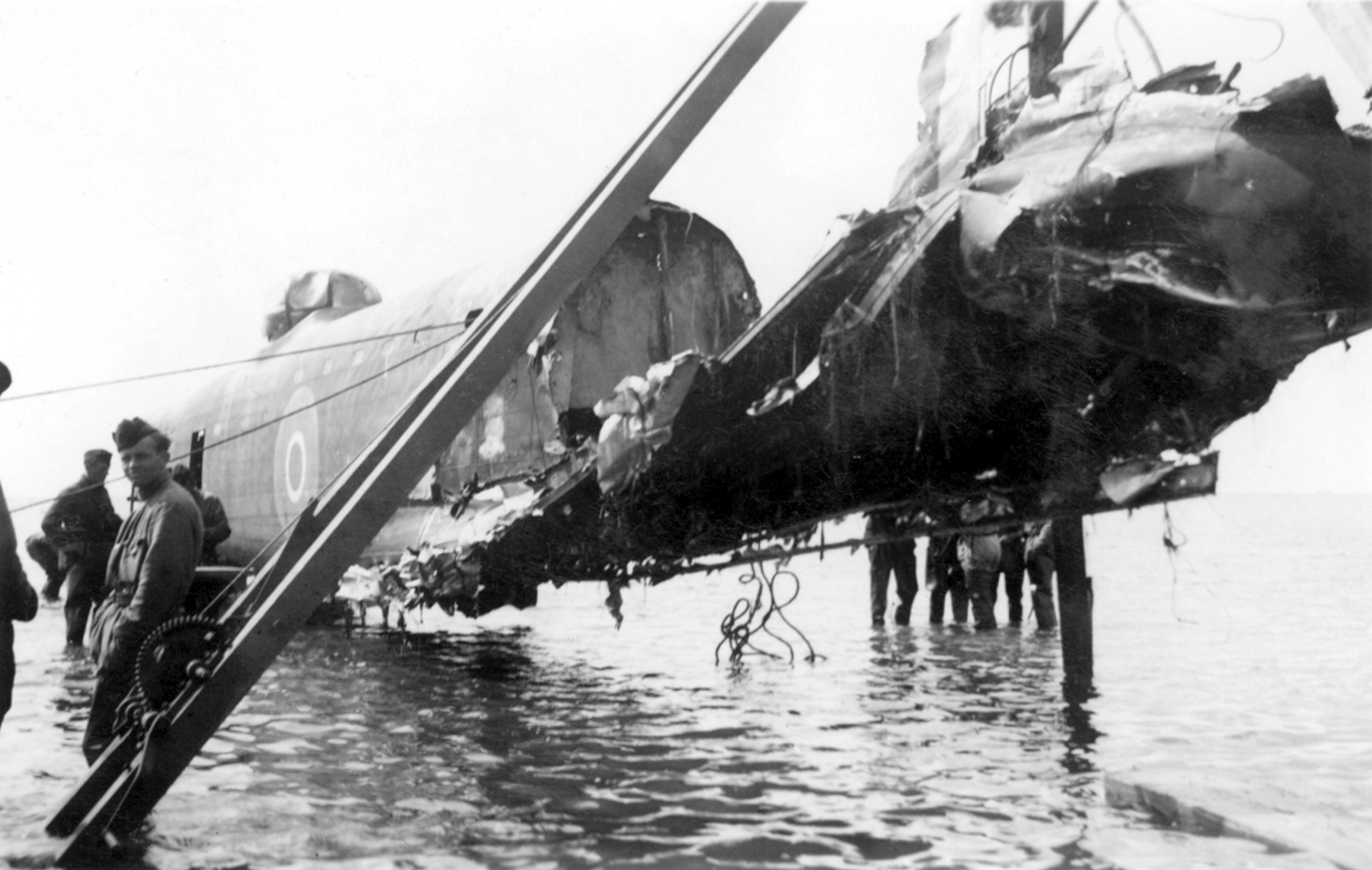 Photo via Bo Widfeldt
The thought then struck me that maybe we could make Sweden. When i thought I was directly south of Sweden, I told Cy to map-read me to it. Visibility was still perfect. I saw another kite get the chop over Denmark on our port side.
Old F for Freddie was hard to keep on an even keel. The starboard fin and rudder had been partially shot away. The side and top pf the fuelage were like a Swiss cheese. The wind from the holes in the windscreen cut my face. All top wireless aerials had been shot away, too.
I had ordered Tommy to run all four engines off the port centre tank and put the supercharger inte gear. I thought maybe I could use up all the juice in that tank and the fires would go out. It seemed I just couldn´t get rid of my petrol. I still had 1.200 gallons in all tanks.
I thought of how many times I had nursed the precius stuff to get home. Now I just couldn´t use it fast enough. If only it had been one of the inner tanks. But no such luck, it had to be one of the centres.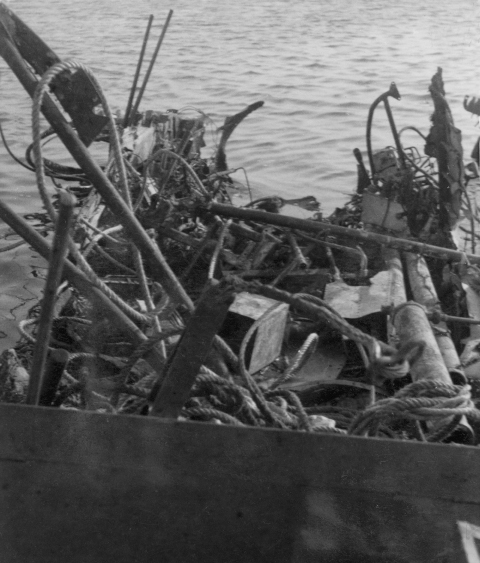 Photo via Bo Widfeldt
Now I could see the lights of many cities and towns like tiny pinpoints miles ahead. This must be Sweden.
The fires had spread to five places now. I almost lost hope. She must blow up any minute. Either that or the wing would drop off, breaking between the port inner and outer engines.
"It won´t hurt much when we prang," I thought, "but gosh, I hope I haven´t boobed and sacrificed seven men when we could have bailed out over Germany and at least have been life prisoners of war".
Still, maybe poor Chris couldn´t have jumped. Thus I tried to flannel myself into thinking I had done the right thing.
"Yes skipper, this is Sweden." said Cy, who apparently had just got a fresh pinpoint on one of the many baltic islands.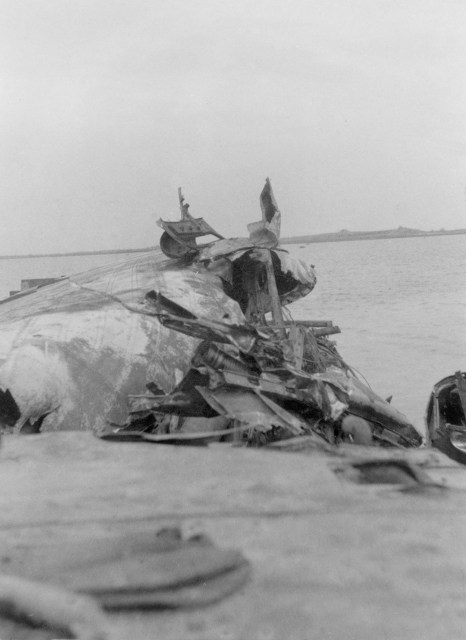 Photo via Bo Widfeldt
"The toughets part of all," I thought, "will be to land this old flying beacon" That´s what we must have looked like, a ball of fire tearing along at 240 indicated. "There´ll be no ground staff to get a Q.F.E from, I wonder how much my altimeter is out. There will be no flare path and she´s hard to handle with that pranged rudder and fin. To hell with it. We are over land now. It is Sweden, I am sure. The lights are very pretty, but I´m to busy to pay much attention."
"Bail out," I ordered. "and one of you can cope with Chris. Pull his ripcord with some of the trailing aerial after you have thrown him out of the rear door."
Not one of them moved.
"Get out you fools. This wing isn´t going to stay on forever. Tie Chris to the rest bed for he and I in a crash landing."
Photo via Bo Widfeldt
"Go to hell," was the answer. "We´re staying with you."
Now, I ask you, what can you do with a gang like that? "Good guys," I thought. "They know I´ll never be able to lift Chris out alone before we are burned alive."
He was unconcious now from loss of blood, I guess. We were down to 3.000 feet by the altimeter and I told Tommy to change back to the inner tanks as the fires were to far advanced now.
Well, if you´ve ever played baseball and the score is tied, and it´s the last half of the ninth; The bases are full; There´s two out and you´re at bat with three balls and two strikes on you, you will get some idea of how I felt. The difference being that we were playing for keeps.
"I must not let these guys down."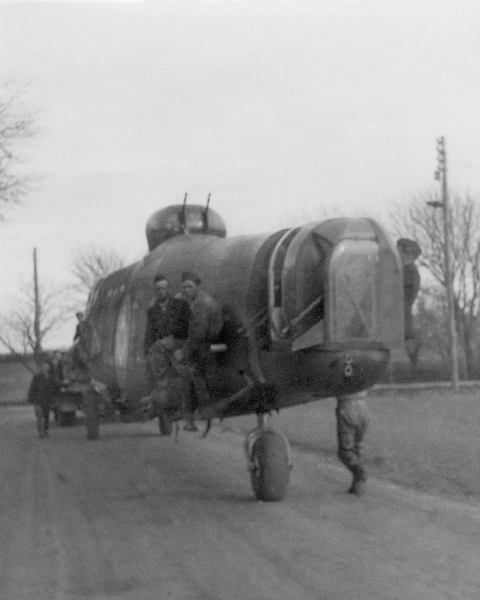 Photo via Bo Widfeldt
Boy, I never thought anyone could trust any one person as much as they trusted me – What faith. Guts? Talk about guts. Those guys are loaded down with them.
The only comment was: "We know you can do it Mac."
I had a lump in my throat as I hoped I wouldn´t let them down.
Now I spotted what looked like a natural shallow bay just off the coast. I came down to what I figured was about 300 feet, examining as best I could in the moonlight my intended forced-landing path.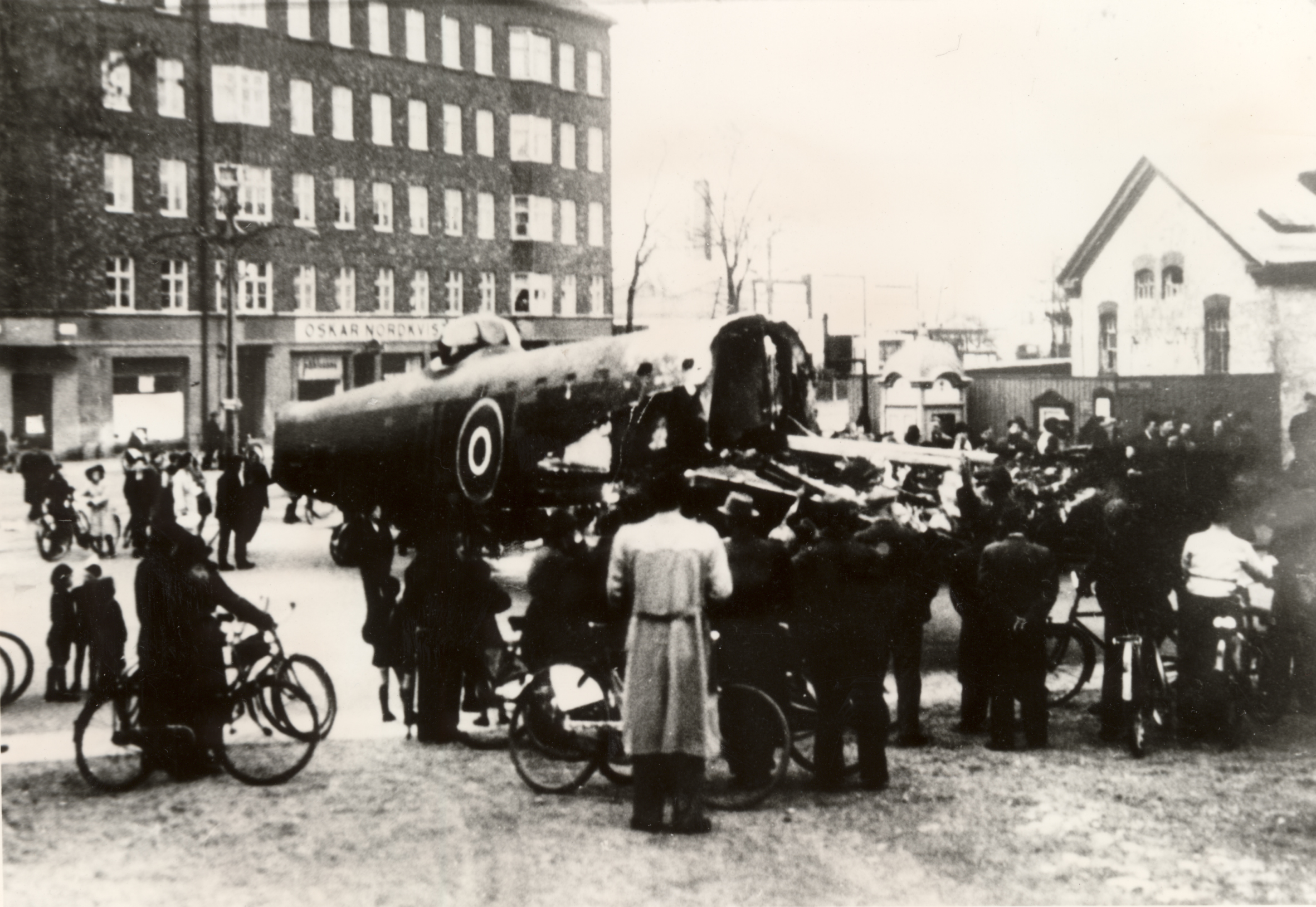 The transport of the aircraft has reached Malmö where it arouses public curiosity. Photo via Bo Widfeldt
"The landing must be smooth enough so that the petrol won´t splash to much on the burning part of the wing, or so that the burning fragments will not drop into the tank and explode the remaining fuel."
All these things flashed through my mind as I made my approach. I put down 30 degrees of flap and in we came with the under-carriage up. I figured I would not stall the aircraft as one normally does when landing, but fly it into the water at the slightest angle possible. In this way we would not drop at all but just get the shock of the impact with the water iself.
She touched the water and I jerked the control column back as hard as I could. Everything seemed to shake and quiver in front of me.
The boys were secure at their ditching stations. My safety harness dug deeply into my shoulder and kept my face from being splattered all over the instrument panel.
Flames now shot 30 feet into the air as some of the petrol splashed up onto the burning wing. I was sure the fire would destroy the aircraft.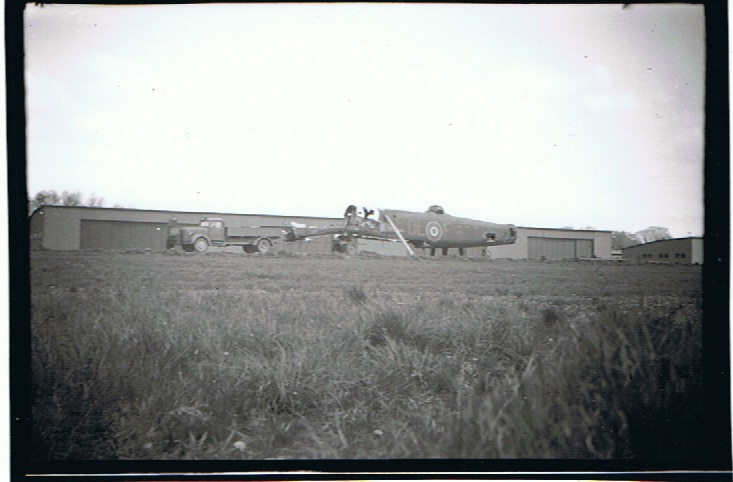 The wreck in front of F 10 Bulltofta where it ended up on the scrap yard. Photo via Rune Jarl
| | |
| --- | --- |
| Staff from F 10 posing in the machine gun tower. Photo via Rune Jarl | Private mechanic Rune Jarl posing by the body. Photo via Rune Jarl |
Well, it was all over. I could hardly believe it. It seemed to take Tommy hours to climb up through the pilot´s esape hatch and I couldn´t get my harness undone. I tugged and tugged. It had been tangled up with my parashute harness and mae west. I undid my mae west and worked like hell.
The flames were all around and I was in no mood to be fried (not yet). It was out of the hatch like a shot. The rest of the crew were helping Chris into the dinghy, which had functioned properly.
I suddenly began to realize that the aircraft was floating a long time. Surely we couldn´t be grounded. Then I saw Tommy wading in the water waist-deep. We all laughed later when Maxie held his nose and jumped of the starboard wing into 3 1/2 feet of water.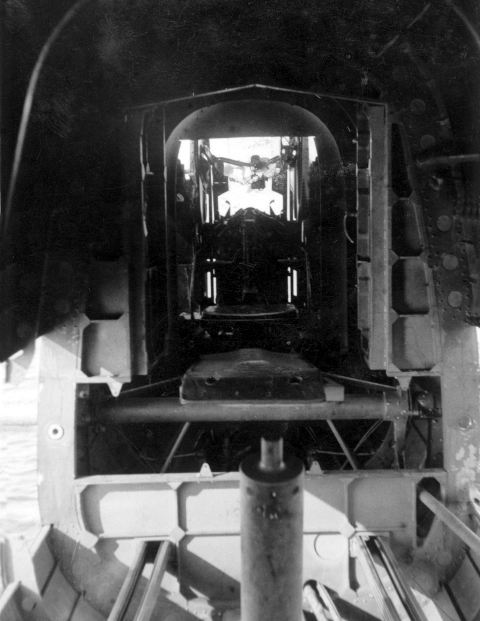 View from inside the body. Photo via Bo Widfeldt
We all helped Chris by taking turns carrying him. We only had about 200 yards to go to the shore so we coped all right.
Poor Chris was out like a light when we reached the shore. Tommy and I went for a doctor and the rest of the gang stayed with Chris.
We were soon taken in tow by Swedish military officials and Chris was sent to the nearest hospital. His arm is going to be okey.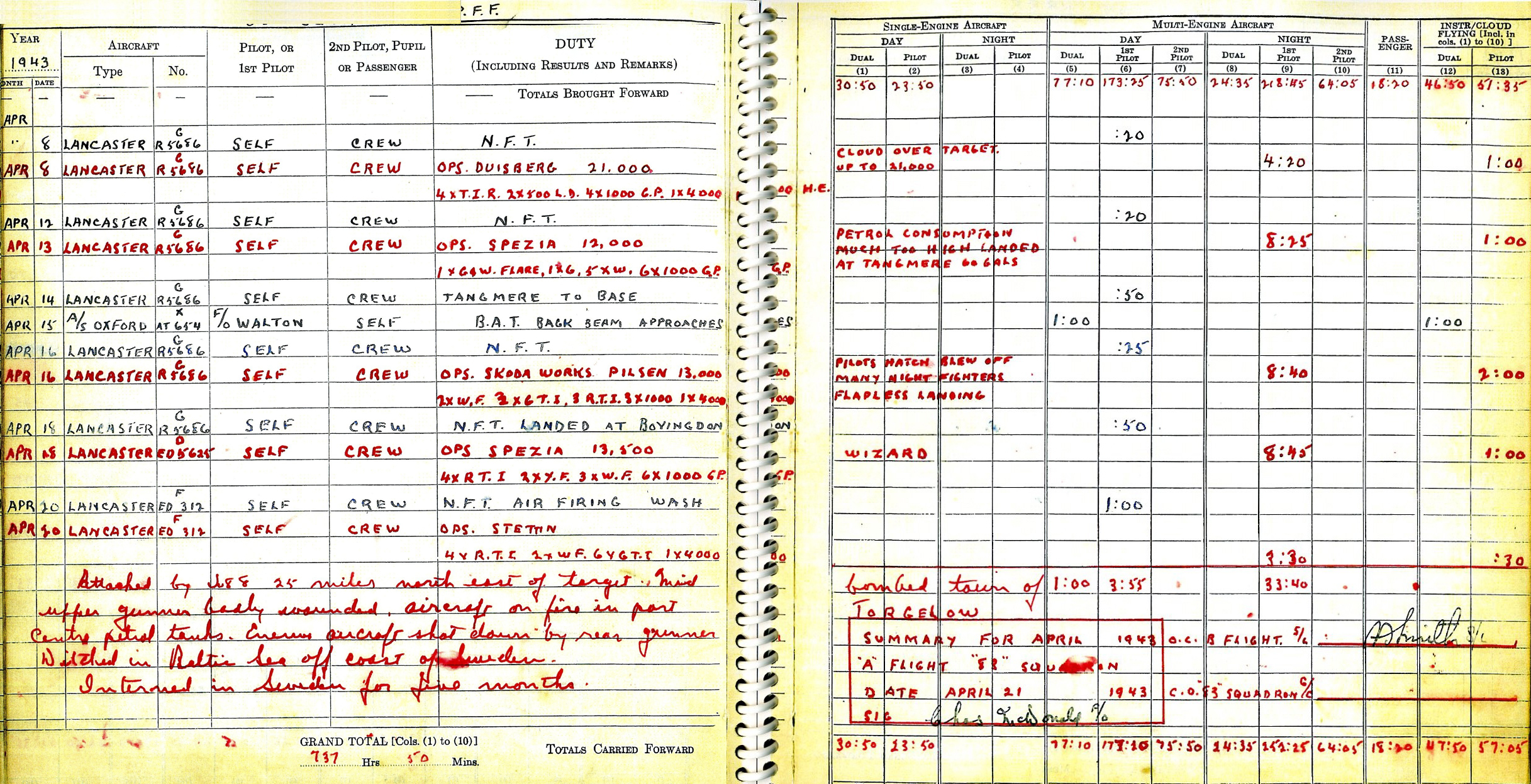 McDonalds Logbook. Photo via The McDonalds family
I think all my crew should be given gongs for the guts and determination they showed when they really faced death. They stuck with me all for one and one for all sort of thing when they twice had the chance to bail out.
But now? I´d give anything to be back on the job again, to be in a Lanc again with places to go and some bombing to do.
Written for the Canadian Press by PO. CP. Macdonald, DFC, DFM, Royal Canadian Air Force.
From the left F/O Crebbin, P/O McDonald and Sgt Coles captured by the Central Stationen of Stockholm during the trip to Falun and internment at Främby. Photo via Bo Widfeldt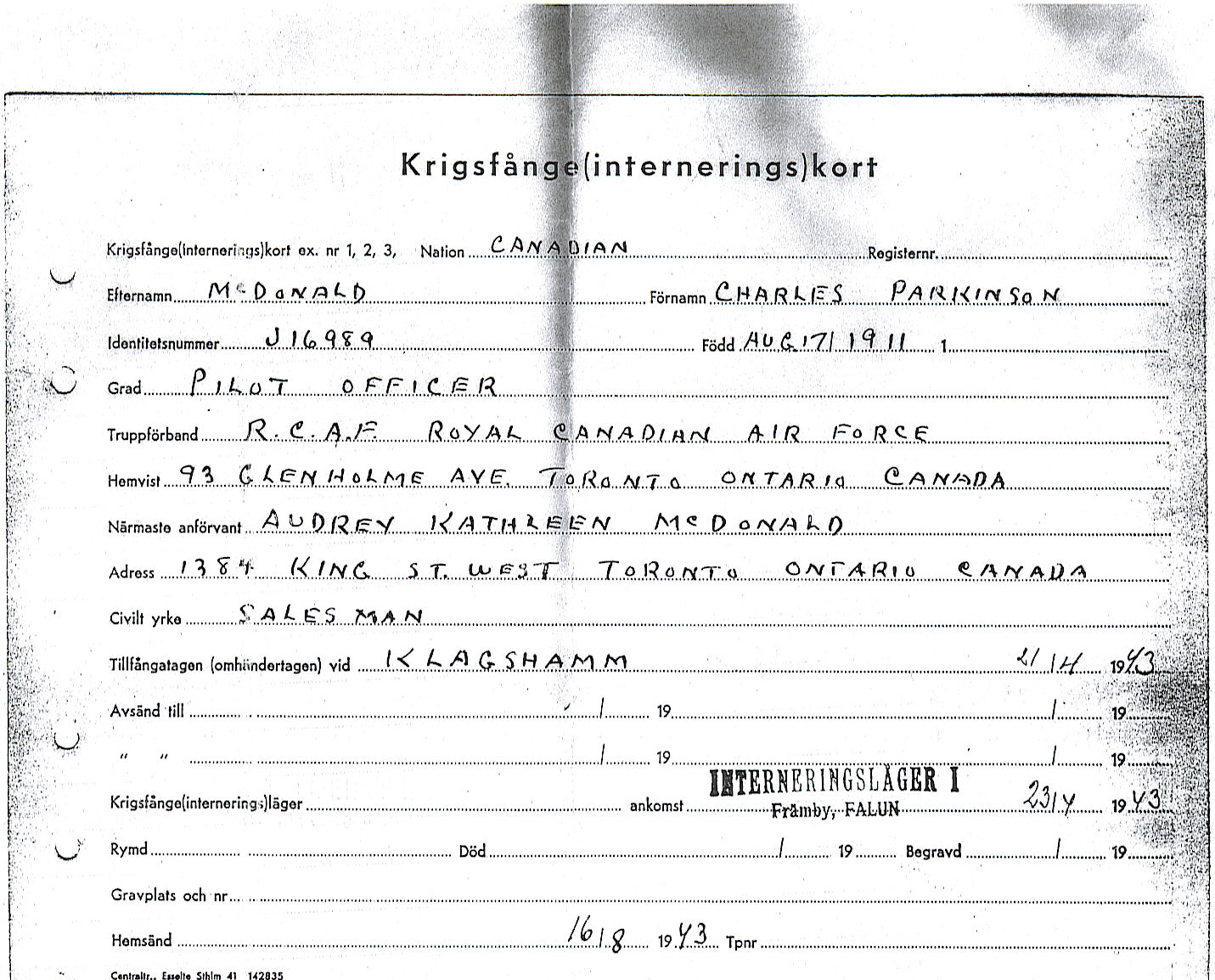 McDonalds internment card. Via Bo Widfeldt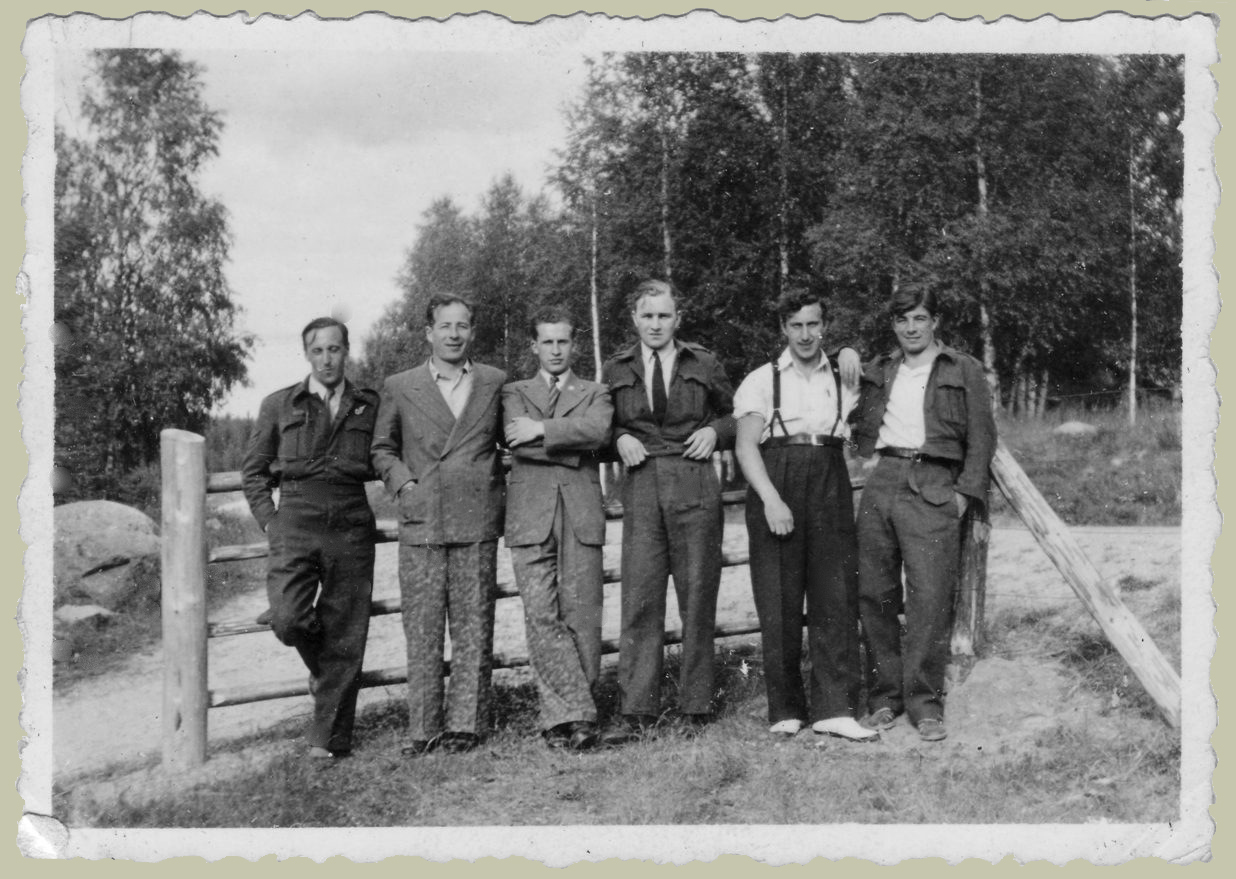 The crew during the internment in Främby, Falun 1943. Photo via The McDonalds family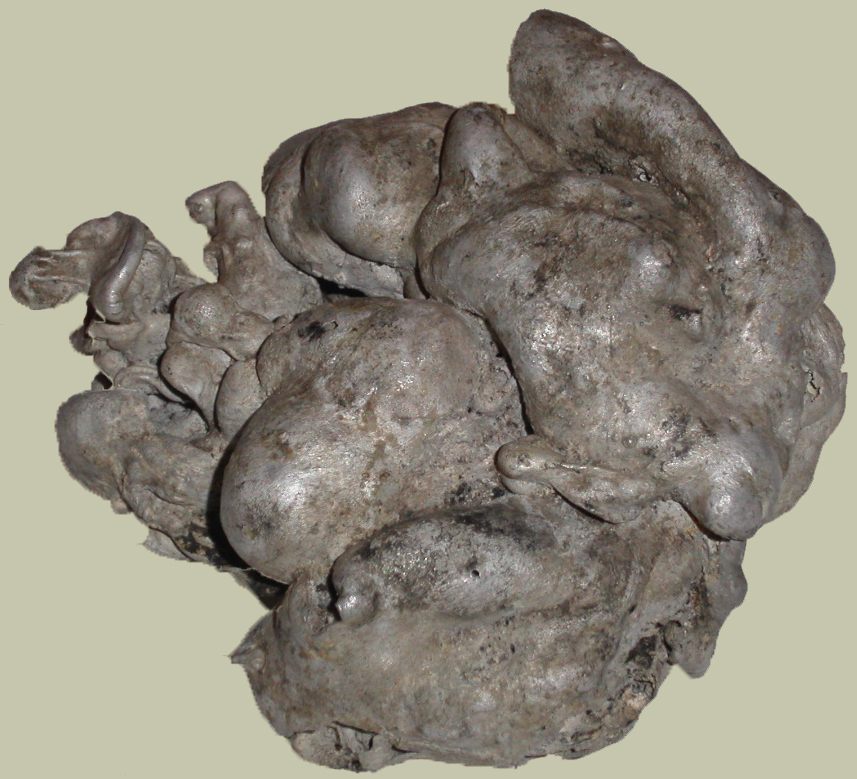 A piece of melted aluminum that dropped into the water after landing. Nicklas Östergren got this as a gift at the age of 11 by eyewitnesses Lars and Margit Hansson of Klagshamn. Photo: © Nicklas Östergren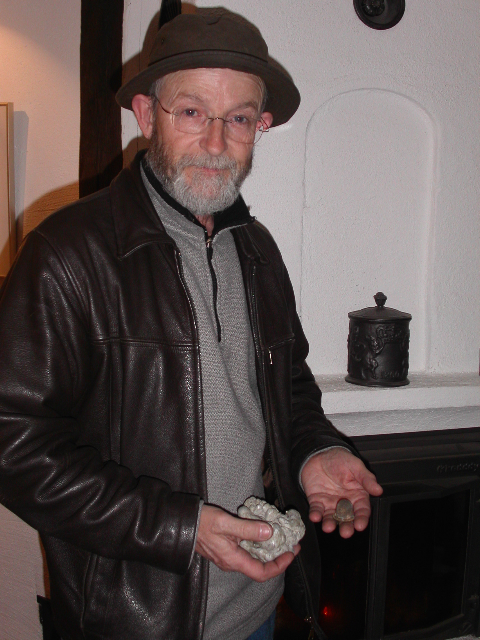 The pilots son, Jeff McDonald, visiting Sweden Oktober 2005. Thanks to direct contact a lot of interesting information has been chared. Photo: © Nicklas Östergren