A pilot floates ashore
- Written by Sven Persson -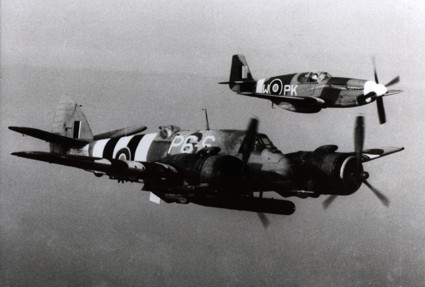 Unfortunately no photo of NE745 has been found but the picture above shows NE429 (P6-S) being escorted by a Mustang of 315 (Polish) Squadron. Photo is taken when returning to base from the mission on July 30, 1944. Photo : Royal Air Force
During World War II, there were within the Royal Air Force a number of units that consisted of personnel, in whole or in part, from other countries such as Australia, Belgium, Canada, Czechoslovakia, France, Holland, Norway, New Zealand, Poland and South Africa. Some of these were built up by staff who came from countries within the British Commonwealth, while others came to be composed of personnel who had fled their homelands when they were defeated and occupied by Germany. They now had another chance to fight back!
No. 489 Squadron was a New Zealand unit, and on this day another mission was performed together with 143 (British) & 455 (Australian) Squadron being escorted by Mustangs of 315 (Polish) Squadron. Intended targets were the ports and shipping along the Norwegian coast at the height of Lister to Stavanger. The weather was favorable and the visibility was very good, but despite this, they did not discover any targets to attack. Shortly after they turned for home the Beaufighters were attacked by eight Messerschmitt Bf 109 from J.G. 5, but the Mustangs quickly came to the rescue. NE745 fell behind and quickly got three Bf 109´s on its tail, other crews saw the plane make wild evasive maneuvers to escape but in vain. German data argue that the plane crashed about 45 km west of Stavanger.
If the crew managed to bail out or not is not known but the pilot W/O Tuck was found outside Gothenburg and was buried on September 3, 1944 at Tjärnö (later moved to Kviberg cemetary in Gothenburg). The navigator F/S Larnach was buried in Norway after having been found dead at Grimstad.