Sweden or Switzerland? A common misunderstanding.
- Text by Sven Persson -
On October 9, the USAAF performed a large scale attack on various targets along the German Baltic coast including against the u-boat production in Danzig where 42-40610 was hit by flak over the target area. On the return home one of the engines seized and the propeller had to be feathered, they also lost altitude and a decision was therefore made to set course for Sweden.
A successful belly landing was made at Rinkaby airfield and the crew that all were unharmed quickly left the aircraft and set fire to it. It didn´t take long until it was engulfed by the flames. After interrogation the 11 americans were interned at Främby, a couple of months later they could return to England.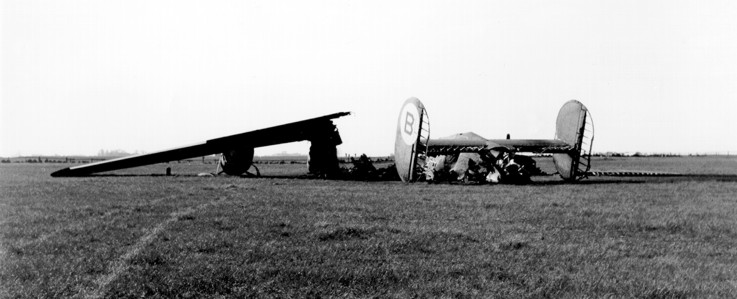 Photo via Bo Widfeldt
What is meant by the strange title? A misunderstanding that is repeated enough times finally becomes an established fact. Many sources indicate that 42-40610 was called "Death Dealer" but this was not the case. There was an aircraft with that name in the same unit but it was 42-40611 and that aircraft belly-landed on August 13, in Switzerland (almost two months before the one that landed in Sweden). It is not the first time that people confuse Sweden with Switzerland and in addition, both machines are of the type B-24D, have serial numbers 42-40610 and 42-40611, both machines belly-landed and were set on fire by the crew, all these factors increase the risk of misunderstanding. Interestingly, the real "Death Dealer" and "Satan's Sister" both became the first machines of type B-24 to end up in Switzerland and Sweden, respectively.

Photo via Sven Persson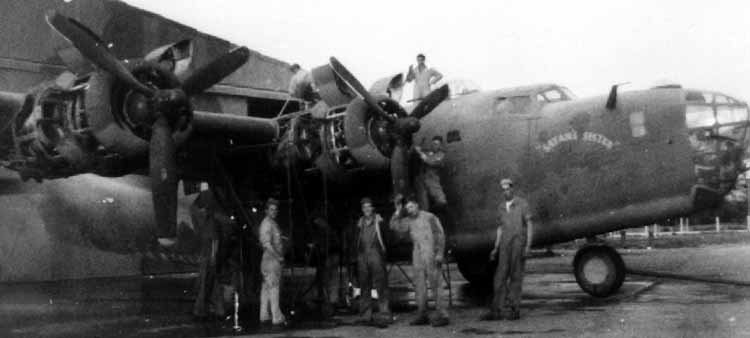 Photo via Sven Persson
The pictures above show 42-40610 during engine overhaul at an earlier stage in England but here you can clearly see the serial number on the fin and the name "Satan's Sister" on the right side of the nose. 409th BS was assigned the code YM, but this was not painted on the planes until later in the war, and when the aircraft belly-landed in Sweden only the individual letter Y was painted on. The bar above the Y indicates that this is a replacement machine for one that previously had the same code. When the plane crashed it had the fins marked with a white circle with a black B, this was the unit marking for the 44th BG.